Spend 30+ minutes a day outside connecting with the natural world for 7 days.
Be inspired and motivated by daily Nature quests, connect with wild ones in a private community, experience the benefits of connecting with nature on a deeper level.
You have permission from us to disconnect from the busy world and go wild for a while.
Take time for 30+ minutes a day to unplug from the hustle and bustle of our modern tech-connected world and reconnect with your wild self. That part of you that thrived as a child -- the wonder, curiosity, fun, explorative, expressive, grounded, body-centered part of you.
Get back to that.
Studies have shown that time in Natural areas increase feelings of peace, calm, creativity, hopefulness, and happiness.
You owe it to yourself and the people in your life to feel more grounded, calm, and fully you.
If you find it hard to put your phone down, turn off Netflix, take your earbuds out, or just go out to Natural areas, this is the perfect challenge for you.

You'll receive simple daily prompts for 7 days so that you'll be held accountable to this new Nature practice. You'll also be invited to an online community of over 6,000 people who are also on a mission to rewild their daily lives and feel better.
Let us help you find the time for more Nature and calm and less anxiety and stress.
Testimonials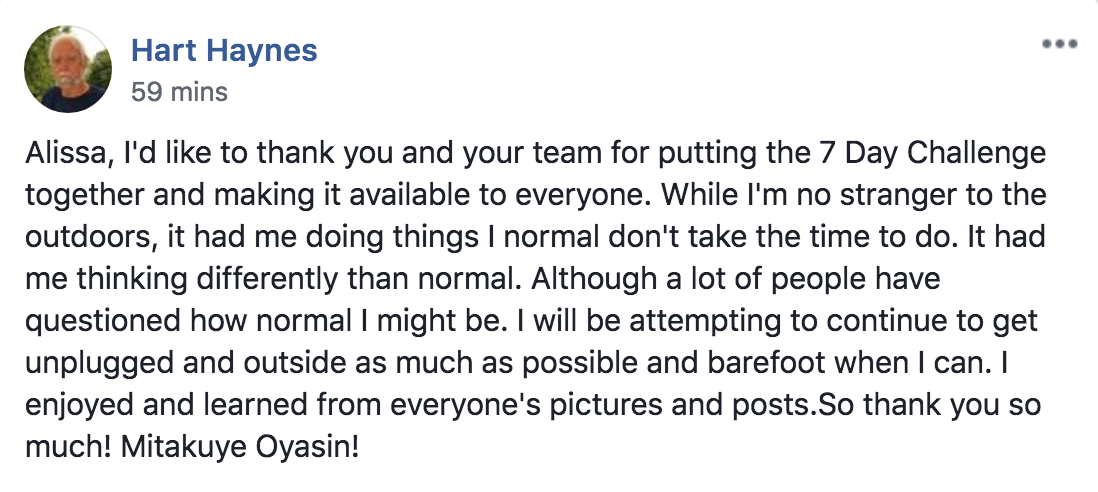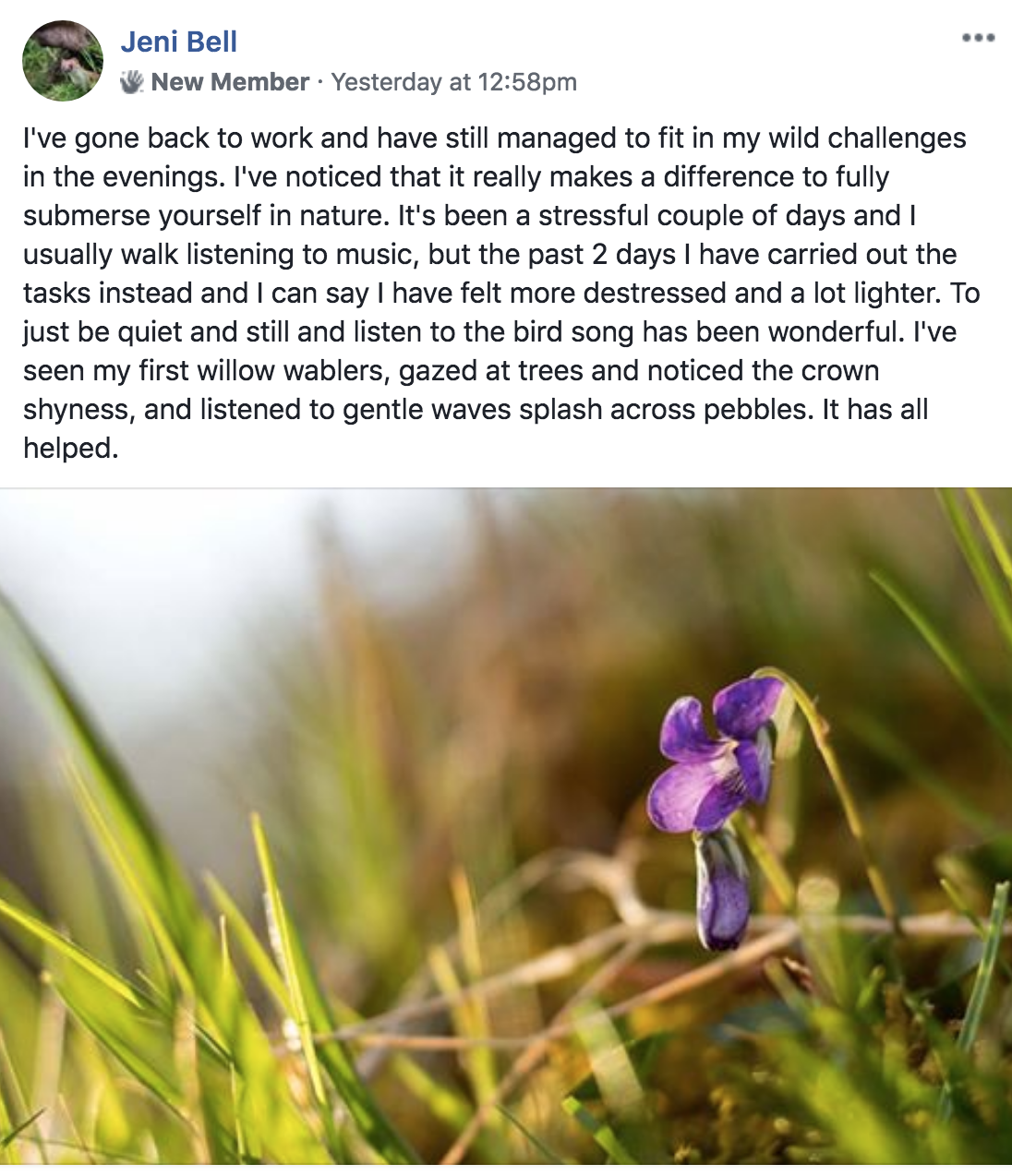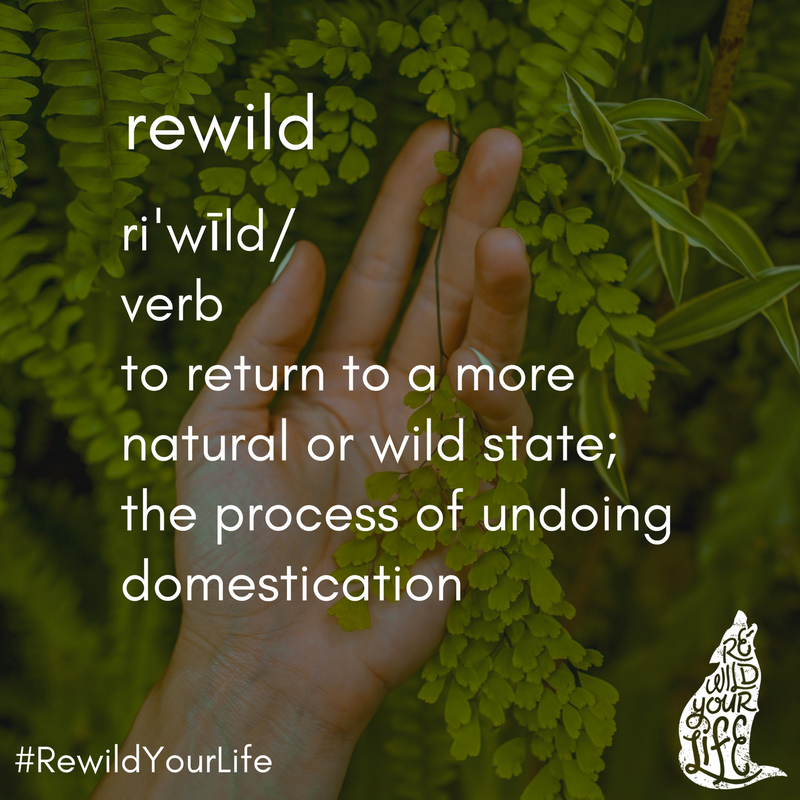 Frequently Asked Questions
When does the challenge start and finish?
The Rewild Your Life 7 Day Challenge starts on May 15, 2018 PST. The challenge runs for 7 days and ends on May 21.
What if I live in a city and don't have access to nature?
Even in most cities you can find a park, a beach, a nature area, botanical gardens, your back yard if you have one, or even a neighborhood with plenty of trees. You don't need to go into the deep wild to find nature. Nature is always all around us, and participating in this program will help you become more aware of it, no matter where you are.
Does it have to be 30 minutes all at once?
We suggest spending at least 30 minutes a day outside in a natural space. This is the perfect amount of time to allow you to relax, calm your breathing and adjust your senses to the more subtle world of Nature. If there is no way you can take 30 minutes to do this, that's okay! Do your best. If you want to do two sets of 15 minutes that is fine. As long as you are making an effort and being aware of how you feel during your time outside, that's all that matters. We understand that not everyone has easy access to wild spaces and it can be hard with a busy schedule. Don't make too many excuses as to why you can't go outside today. Push your boundaries and make time for yourself and nature. You won't regret it. You can do this!
What if i can't do 7 days in a row?
Don't worry. If there is a day or two or even three that you can't find the time to make it outdoors you can just pick up where you left off and take the challenge a few days further. Even a quick walk outside is better than no time outside. This program is about YOU and your connection to nature. You get to work with your resources so don't be afraid to stray away from the guidelines in this regard.
Does this program involve strenuous activity?
This program is quite gentle on the body. All you have to do is BE outside in a natural space. You can just sit under a tree or lie on a blanket and stare at the sky. Do what you enjoy. We love to encourage people to move their bodies and get more wild and free with their physical self. Walking, jogging, skiing, biking, rolling, jumping, bounding, crawling, and climbing are all things we encourage you to explore. If you would like to do more intense physical activity while you are outdoors during this program we invite you to learn more about The Wild Body Program, which helps you "rewild your body" in 30 days.
This course is not open for enrollment.